What is a e-liquid made of?
E-liquids are usually made of 3 ingredients : the base, which contains 2 of the main e-liquids components (propylene glycol and vegetable glycerine), food flavourings dedicated to inhalation, and nicotine (or not).
Nicotine in your e-liquid is essential for a successful transition. Some e-liquids can contain a slight amount of alcohol and purified water, but this is becoming increasingly rare. We can also find some flavour enhancers or freshness agents.
Propylene Glycol
Vegetable glycerine
Aroma
Nicotine
Propylene Glycol
Propylene Glycol, also known as PG, is a key component of a e-liquid. Its rate can change from a e-liquid to another.
PG's main role is to boost aromas and highlight them for a tasty result, and also to generate the "HIT" in your throat, which is important to mimic the sensation of a cigarette.
Fluid and non-viscous, it usually brings a slight sweetness. PG does not have any toxicity when inhaled or swallowed.
Caution: the more PG a e-liquid has, the more "Hit" you will feel in your throat, and the more fluid your e-liquid will be. It's important to use the right atomizer to prevent any leakage (tight airflow and ohm value > 1 ohm if PG > 50 %).
Do not confuse with Ethylene glycol (car's coolant and antifreeze), they are not the same products at all.
Did you know?
PG has antiseptic, antifungal and antibacterial properties. It is common to see it in consumer goods and we often swallow some in our daily life (toothpaste, cosmetics, food materials (E1520), ventolin for asthma, smoke machines in nightclubs or theatres…)
Vegetable glycerine
Vegetable Glycerine, also known as VG, is the second major feature composing the base in a e-liquid.
With PG, VG creates a balance thanks to its viscosity which helps with steam production. However, it is way more gentle in your throat, and won't deliver the throat hit by itself. VG is colourless, odourless and lightly sweet. Unlike PG, VG is thick.
Did you know?
Just like PG, we can find VG in our consumer goods : in food materials (E422), in pharmaceuticals, and a lot in cosmetics, as a moisturizer and humectant.
Aroma
Aromas are important to give a e-liquid the expected taste. Without aromas, your e-liquid will be "vapable", but tasteless. So their role is crucial in the sensations that the e-liquid will give you.
They represent 15% of the composition of a e-liquid.
In most of the cases, aromas are food quality materials, and specially analysed and made for inhalation.
They can be synthetic, or natural. In both cases, health hazard is the same, close to 0%.
Nicotine
Here in the form of a liquid, it's the addictive substance of a tobacco cigarette.
Nicotine will give you the throat hit sensation, in addition to the PG one. Nicotine is available in several rates, to stick to each and every smoker type (each and every one got his own addiction standard).
Caution ! It's not because you start with a high nicotine rate that you won't succeed to wean yourself. Take your time and slowly lower your nicotine rate, and you will get there easily !
Don't see nicotine as a dangerous material. If it makes you addict, it's not the one that will kill you. Vaping will help you to get rid of substances that are toxic for your body, while reducing your addiction.
The different PG/VG rates : what to choose, and why?
When you start vaping, it's often complicated to understand the whys and wherefores of your e-liquid's PG/VG rate. In the PG/VG rate, the throat hit is important to consider, but some other factors are important to think about to become an experienced user.
Here is a little pattern to make it easier :
Propylene Glycol VS Vegetable clycerine
Caution : some people are intolerant to PG (4% of the population), it makes them cough and irritate their throat. If you are one of these people, you better choose a e-liquid that contains more VG than PG, and of course, use devices that fit this kind of e-liquids.
"My coil has a burnt taste after 2 days, I am very disappointed !"
"My e-liquid leaks from my e-cigarette, and I've got liquid in my mouth when I inhale ! This stuff suck !"
Someone who is new to vaping and has been misguided or has bought on internet without getting the right informations will probably make this kind of comments. Generally, these people quickly drop e-cigarette to come back to regular cigarettes. By doing this, they leave behind them a great way of withdrawal, that allies the taste of nicotine, the smoking gesture and the inhalation of a tasty and cloudy substance.
In order to keep away these kind of inconvenience, it is important to understand the relation between the e-liquid viscosity and your device. Compliance between e-liquid and device is explained in all of our product sheets, but if in doubt, contact us !
E-liquid is brought into the coil that heat and generate steam through a fiber that is positioned all around it (usually coton). The more the coil get a dense coton, the more you want to use a fluid e-liquid with more PG. And the other way around, the more you use an aerated coton, the more it will accept e-liquids with a high VG rate. If the capillary action fails, the coil will get dry too quickly, you will experience a burnt taste in your mouth, and your coil will become unusable.
Fortunately, devices are now way better than before, and you will have less chances to face this situation. Clearomizers accept several kind of coils and allow you to fill it with your favorite e-liquid.
Vegetol : an interesting alternative to Propylene Glycol
An alternative to propylene glycol in e-liquids appeared recently on the market, and that's interesting ! Some e-liquids from the brand Curieux are using it. Discover its benefits in 4 points. .
Quick nicotine absorption
Homogeneity and nicotine bioavailability are better with vegetol than PG. You will be satisfied from the very first hits, because their vaporization temperature is the same.
Vegetol is better than PG to reproduce flavors, and is ideal for complex recipes : you will fully taste all of your e-liquid's aromas, even in e-liquids made up of a lot of flavours !
Your throat won't be irritated
Vegetol e-liquids are not irritating. This component generates a true throat hit, such as PG, but is better for your throat. On the long term, you will feel it !
Vegetol has a better chemical stability at high temperature. During the heat, there's no new components appearing due to a chemical reaction. Produced by a VG biofermentation process, it's natural and ecologic.
The different e-liquid tastes
Quite often, when we start vaping, we tend to get a e-liquid that will taste like a cigarette. So usually, a classical tobacco flavour !
Tobacco lovers, you'll find your happiness ! Brown, blond, sweet or dry, one of these e-liquids will suit you ! You can even give in to your gourmet tobacco urges…
With the fruity e-liquids, vape some punchy mixes ! Orchard fruits, exotic fruits or berries, pick your favorite according to the season !
Custard, caramel, candies and cakes, gourmet flavors will drive you mad ! There are hundreds of gourmet e-liquids to vape everyday !
These e-liquids will give you a refreshing sensation. It can be mint, or a fresh e-liquid without even a mint taste, everybody will find his favorite ! !
Be kind to your taste buds thanks to some delicious drink aromas : coffee, tea, milk-shake or cocktail, there's one for everybody !
Choose the right nicotine rate : very important !
Popular belief
Stop smoking nicotine ! You will get cancer !"
This is what we often hear about nicotine. Take it easy : THAT'S COMPLETELY WRONG !
Poison is the cigarette combustion, releasing tar, carbon monoxide and a lot of other dangerous substances, creating all the serious damages that we know from smoking. There is none of that in vaping !
Do not see the devil in nicotine, you will need it if you want to switch efficiently to e-cigarette. Without nicotine, it will be very hard to get rid of "the killer" one. Isn't it what you want?
Nicotine is addictive : it's the one that makes you addict. The purpose is to eliminate the risks, staying on the same nicotine rate than when you where a smoker, and then reduce that rate little by little until you can be free from it.
By choosing vaping, you take an important step. If you want to make it, it is crucial that you get the right tools in your hands. After determining which equipment you will get, you want to know which nicotine rate to choose for your e-liquids.
Do not panic, Freevap is here to help you once again !
Nicotine in e-liquids, how does it work?
Same as when you picked up the right e-cigarette, you will choose your e-liquid according to your smoking former habits. Nicotine inside your e-liquid has two specific functions :
Generate a throat hit
Fill the lack
Generate a throat hit
The throat hit is a sensation linked to the soft tingling felt when inhaling the steam. Nicotine is responsible of it, with the PG rate. Often, when switching from cigarette to e-cigarette, the new vaper will look for this sensation.
However, the throat hit differ according to the chosen nicotine rate. The more that rate is high, the more you will feel the throat hit.
Fill the lack
Nicotine will fill the lack perceived in the first stages of using your e-cigarette. It is crucial to get the right nicotine rate when you start vaping, to get satisfied all along the day and avoid to go back to classic cigarette. Vapers inhale 5 to 10 times less nicotine that in a cigarette. With vaping, nicotine will calm down your synapses' excitement after a few steam hits.
Unlike with cigarette, satisfaction is not immediate. If you feel like vaping all the time during the first days, do not be surprised. Over time, you will significantly lower your nicotine rate to find your optimal daily dose.
New : nicotine salt (or nic salt) ! It provides a nicotine absorption as fast as the cigarette, but doesn't generate a hit.
Which nicotine rate suits me best?
These rates match with the use of a mouth to lung (MTL) e-cigarette.
Each e-liquid is available with several nicotine rates. The most common ones are 0, 3, 6, 12 and 18mg/ml, but it can vary depending on the brand. E-liquids that you can find in Europe won't overtake 20mg/ml (europeans manufacturers have to respect this limit). Each vaper behaves differently and have to choose the nicotine rate that suits his former smoker's habits. Month after month, lower your nicotine rate to slowly beat your addiction. Caution, don't go too fast : by skipping steps and not following your rhythm, you will risk to go back to cigarette. Do it slowly, with e-liquids that suit you, and keep taking pleasure.
To define your profile, pick your actual tobacco consumption :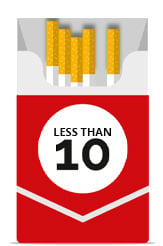 You are a moderate smoker
You need to fill your lack of nicotine, but you're not a hard smoker. You can start with e-liquids between 6 and 12mg/ml.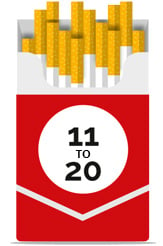 You are an average smoker
Years after years, you developed a big addiction to nicotine. To fill your needs, focus on e-liquids from 12 to 18mg/ml, they will give you enough nicotine not to go back to cigarette.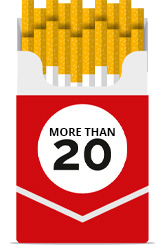 Inexhaustible smoker, nicotine is now your allie. In order to satisfy you desire, choose e-liquids with 18 or 20mg/ml, or nic salts 20mg/ml.
Tip : plan to get a Podmod in addition to your e-cigarette, with its nic salts e-liquid for the hard times when you really want to smoke. That is a winning strategy !
The different types of nicotine
On the vape market, we can find 2 different types of nicotine :
Benefits
A lot of different e-liquids : hundreds of flavors, find your favorite taste !
Rates adapted to your profile : pharmaceutical nicotine e-liquids can follow you until your last hit, from 18 to 0mg !
Compatible with every equipment : after choosing the e-cigarette that match with you, no worries. Unlike nic salts, pharmaceutical nicotine require no specific equipment to vape.
Drawbacks
Throat irritation : pharmaceutical nicotine can generate a strong throat hit sometimes. But we can get used to it quickly. Perseverance is an asset.
Slow nicotine absorption : with the common e-liquids, nicotine can take a few minutes to get to your brain, and requires to vape a little longer before you feel satisfied.
Do not swallow it, and leave it out of the reach of children or animals.
Benefits
Quick nicotine absorption : nic salts recreates with more efficiency the sensation of a cigarette and are perfect for hard smokers that are looking for an instant satisfaction.
A softer hit : no more coughing spell, its soft hit will satisfy you without irritate your throat.
Perfect for a transition : by being very close from the sensation of a classic cigarette, nic salts are an ideal way to switch for vaping.
Drawbacks
Accurate equipment : you can only vape nic salts with low power coils, and they require the right equipment not to end with headache.
Do not swallow it, and leave it out of the reach of children or animals.
What are nicotine boosters made for?
When we talk about e-liquids with nicotine, we always talk about 10ml e-liquids.
A European law (TPD2) bans e-liquids with nicotine containing more than 10ml, on the european territory.
To solve this problem, one solution : nicotine boosters ! It is a e-liquid containing only a base PG/VG with 20mg nicotine, without any aromas.
Then, you will find numerous "large size" e-liquids (more than 10ml), all without nicotine, but slightly overdosed with aromas in order to add 1 or several boosters to give this e-liquid some nicotine. Isn't it great?
It exists in several versions :
50ml in 60ml
40ml in 60ml
20ml in 30ml
40ml in 70ml
50ml in 60ml
With this vial, get 3mg nicotine by adding a booster
40ml in 60ml
With this vial, get 6mg nicotine by adding two boosters
20ml in 30ml
With this version, you can get 3mg nicotine by adding half a booster, and 6mg with a complete booster
40ml in 70ml
With this vial, get 9mg nicotine by adding 3 boosters
For nicotine rates over 6/9mg in a large size, you'll need an empty large size vial to be able to add the right number of boosters in order to get the nicotine rate you want.
Health standards
Always performing in health standards and e-liquids analysis, our french neighbours are ahead the other countries when it comes to manufacture high-end e-liquids.
Some of them like Gaiatrend (Alfaliquid), Vincent Dans les Vapes, Lips (Le French Liquide), Green Liquides (Green Vapes, Black Sheep) and some other ones are the world's cleanest e-liquid brands.
Vapologic Nicotine
Vincent Dans les Vapes (VDLV, Cirkus), one of the biggest french e-liquid manufacturer at the forefront of innovation and health standards, grows their own tobacco to take the nicotine out of it. That's a first in the world, with tobacco plants dedicated to vaping in order to get the best of their potential !
Bravo, you made it to the end of the guide. Congratulations for your action, your body will appreciate !
If this guide wasn't enough for you, and you need more informations, don't hesitate to call our customer service +41(0)225290836 or send us an email at [email protected].
It will be a pleasure to go along with you in this challenge.