Vape pen disposable Geek Bar - Geek Vape
500mAh
Internal battery
MTL
Do you have a
question
about this product?
No one 18 years of age
Designed for an effective smoking cessation and without constraint, Geek Vape presents its new pod, The Geek Bar
The Geek Bar is a very light pod that will be very easy to carry. This disposable electronic cigarette has an autonomy of 500 mAh (approximately 575 puffs) and contains 2ml of liquid in its sealed cartridge, already filled with the liquid of your choice. Very simple to use, you will only need to pull to trigger the system. Once finished, you can throw away your pod to get another one!
The Geek Bar offers a tight draw (MTL ) for all beginner vapers. In addition to that, you will have the choice between a multitude of flavors in 20mg / ml of nicotine salts to avoid possible irritation of the throat and allow the best smoking cessation possible!
Sold by the unit.
The Geek Bar Kit by Geek Vape: An ideal pod for all beginners vapoteurs!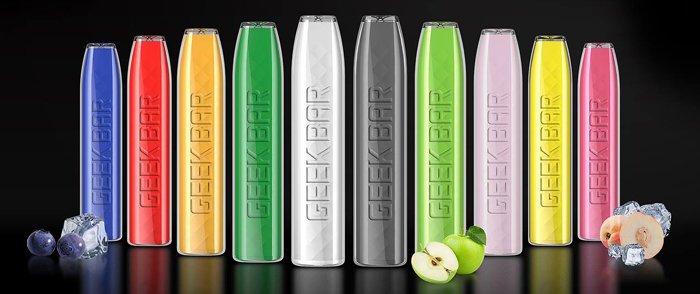 The Geek Bar from Geek Vape is finally here! Compact and practicality define it perfectly. A pod for beginners wishing to start their smoking cessation. With an autonomy of 500 mAh (575 puffs), this electronic cigarette is disposable and has a sealed cartridge of 2ml liquid with 20mg / ml of nicotine salts. The resistance is also integrated into the cartridge (1.4 - 1.5 ohm), which will not require any adjustment and change on your part. In addition, the Geek Bar is equipped with an organic cotton ideal for heating. Ease and lightness are the rendezvous with the Geek Bar!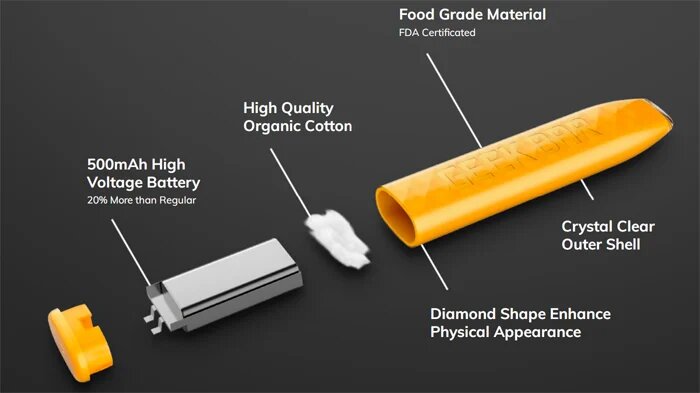 The e-cigarette Geek Bar: a multitude of flavors to choose from!

To each flavor its Geek Bar! With a cartridge filled sealed, you will have to change Geek Bar to change flavor. A multitude of choices are available to you
- Watermelon Ice: Fruity and fresh with a good taste of juicy watermelon
- Mango Ice: Fruity and fresh with a good taste of fleshy mango
- Peach Ice: Fruity and fresh with a good taste of tasty peach.
- Lychee Ice: Fruity and fresh with a good taste of exotic lychee
- Sweet Strawberry: 100% fruity with a sweet strawberry taste.
- Menthol: 100% fresh with a menthol taste.
- Sour Apple: 100% fruity with a good apple taste.
- Tobacco: 100% classic with a neutral tobacco taste.
All Geek Bar contain 20mg/ml of nicotine salts
The Geek Bar kit from Geek Vape comes with:
- 1 pod Geek Bar 500 mAh
The characteristics of the ecig Geek Bar of Geek Vape :
- Dimensions: 23.2 mm x 13.3 mm x 105 mm
Sold individually
With its wide range of products, such as pods, ecigarette kits, clearomizers, disposable vapes, Geek Vape has managed to make a place for itself among the manufacturers of vape equipment. Its products with increasingly innovative designs and technologies are very popular with vapers.
Capacity (ml)

2ml

Types of flavor

Mint

Aromatic notes

Tobacco

Hardware format

Vape pen disposable promo

Battery life

500mAh

Battery type

Internal battery

Maximum power

9W

Type of inhalation

MTL

Diameter (For compatibility)

Not available

Fill type

Sealed: no refilling

RBA option

No

Country of manufacture

made in China
For any questions regarding your order or product availability please use our contact form
Nadia Guarino
2022-01-18 05:43:45
Pourquoi après une bouffée faut-il attendre un long moment avant la deuxième bouffée ? C'est nul pour les gros fumeurs
Bonjour Nadia,

Nous sommes désolés d'apprendre que ce matériel ne réponde pas à vos attentes.
Vous n'êtes pas obligé d'attendre un long moment avant d'enchainer une deuxième bouffée sauf si la vape est en fin de vie, qu'elle n'a plus de batterie ni de liquide.
À savoir également que ce type de vape est plus destinée aux primos vapoteurs, c'est à dire, ceux qui veulent débuter la vape sans contraintes. Mais si vous êtes grosse fumeuse, nous vous conseillons de vous orienter vers un kit offrant plus d'autonomie et de puissance tel que :
-https://www.freevap.ch/fr/kits-cigarettes-electroniques/6122-kit-zelos-3-aspire.html

L'équipe Freevap vous souhaite une agréable journée !
Bonjour, je voulais savoir si vous aviez des e-cigarette jetable mais sans nicotine? toutes celle que j'ai vu ont 20mg de nicotine.
Bonjour Fred,

Nous n'avons malheureusement pas de e-cig jetable sans nicotine.

Vous pouvez toutefois retrouver des modèles similaires et choisir un liquide sans nicotine de votre choix.
Je pense notamment au modèle avec cartouches remplissables et jetables tels que :
- https://www.freevap.ch/fr/kits-cigarettes-electroniques/6517-kit-feelin-pod-nevoks.html
- https://www.freevap.ch/fr/t-juice-sels-de-nicotine/6426-kit-pod-vilter-aspire.html
Ces derniers ont l'avantage d'avoir une batterie rechargeable mais également de mettre n'importe quelle saveur.

L'équipe Freevap vous souhaite une agréable journée !


400mAh
Internal battery
MTL
500mAh
Internal battery
MTL
Claire N. published the 01/08/2022 following an order made on 20/07/2022
Not received the promotion
Johanna Regina B. published the 30/04/2022 following an order made on 18/04/2022
Gute Produkte
Giovanna D. published the 05/04/2022 following an order made on 18/03/2022
I wish there was more choice in the disposable vape devices
Free delivery from 29,90CHF purchase
If you don't smoke, don't vape