Box Aegis mini 2 - Geek Vape
2500mAh
Internal battery
100W
Up to 22mm
Up to 20mm
19,5mm
Up to 19mm
18,5mm
18 mm
17mm
Up to 16.5mm
Up to 16mm
15mm
Up to 14mm
Do you have a
question
about this product?
No one 18 years of age
The Aegis mini from Geek Vape is back with the Aegis mini 2 box!
This one is compact and light for easier transport. As for the ergonomic shape and silicone coating, they facilitate the grip. The most clumsy among you will enjoy the Tri-proof technology: waterproof, dust and shock resistant (IP68)
The built-in 2500mAh battery charges quickly with the included USB-C cable. You can also enjoy the 100W of power as well as variable power, ByPass and VPC modes. All adjustable via the1.08 color TFT display.
Compatible with clearomizers and atomizers up to 22 mm in diameter. Use for example, the clearomizer Z nano or Z nano 2 of Geek Vape.
Warning this product requires a clearomizer
2500mAh
Internal battery
100W
Up to 22mm
Up to 20mm
19,5mm
Up to 19mm
18,5mm
18 mm
17mm
Up to 16.5mm
Up to 16mm
15mm
Up to 14mm
The box Aegis Mini 2 of Geek Vape performance in mini format
The box Aegis mini 2 of Geek Vape is also sold alone to use your favorite clearomizer or atomizer up to 22 mm in diameter. The compact size and strength of this ecig will seduce you, as well as its performance of 100W (instead of 80W for the Aegis mini first name).
The box Aegis mini 2 Geek vape, a performance to all tests
Just like the box Aegis mini first of the name, the mod Aegis mini 2 is ultra compact (78 mm x 25 mm) and light. It will accompany you everywhere in your adventures. In addition, it is ultra solid(IP68 certified - tri-proof technology), ie waterproof, shockproof and dustproof. Its ergonomic curves and its coating offer an unequalled comfort in hand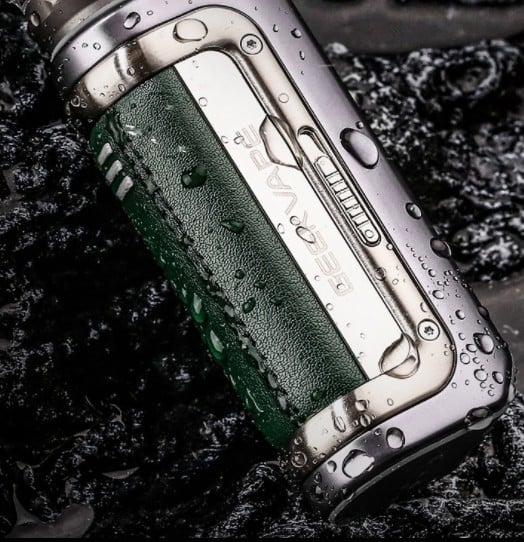 The different modes of operation of the mod Aegis mini 2 Geek Vape
The box Geek Vape works with an integrated battery of 2500 mAh, for a nice autonomy. The recharge is fast (5V/2A) with the USB-C cable provided. The USB port on top of the mod is protected by a silicone cover to remain sealed.
In terms of power, there again the performance is there. Set the Watts up to 100W via the1.08 TFT color screen and the 2 adjustment buttons - and +. In this mini box, you will find the following modes:
- Variable power: power adjustment up to 100W
- ByPass: power according to the battery charge level
- VPC (Curve): setting of the power variation
To change functionality, press the switch button 3 times, then scroll through the modes with the adjustment buttons and finally press and hold the fire button to select. You even find an A-lock system via a switch to lock your vape and avoid accidental startup. For even more possibilities, change the brightness of the screen and the color theme.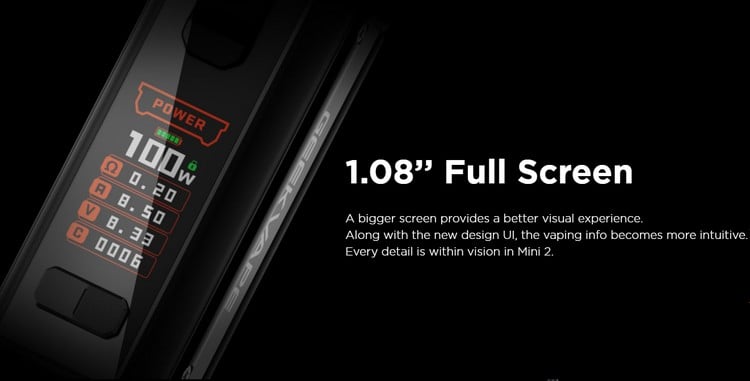 With what equipment to use the mod Aegis mini 2 of Geek Vape?
Thanks to its 510 connector, connect your clearomizer or atomizer up to 22 mm in diameter. For example, use the tank Z nano or the clearo Z nano 2 of Geek Vape.
The Geek Vape Aegis mini 2 mod is delivered with :
- 1 box Aegis mini 2
- 1 USB-C cable
- 1 user manual
The characteristics of the box Aegis mini 2 of Geek Vape :
- Dimensions: 78 mm (height) x 25 mm (width)
With its wide range of products, such as pods, ecigarette kits, clearomizers, disposable vapes, Geek Vape has managed to make a place for itself among the manufacturers of vape equipment. Its products with increasingly innovative designs and technologies are very popular with vapers.
Hardware format

Box, Mini format - discreet

Battery life

2500mAh

Battery type

Internal battery

Maximum power

100W

Diameter (For compatibility)

Up to 22mm, Up to 20mm, 19,5mm, Up to 19mm, 18,5mm, 18 mm, 17mm, Up to 16.5mm, Up to 16mm, 15mm, Up to 14mm

Connections

510

Variable power / voltage

Yes

Charging possible via USB

Yes

Country of manufacture

made in China

Labels

New versions
For any questions regarding your order or product availability please use our contact form
Free delivery from 29,90CHF purchase
If you don't smoke, don't vape