E-Liquid Soda Ryan - V'ICE by VDLV | 10ml
10ml
50 PG - 50 GV
Drinks
Fresh
Coca Cola
Raspberry
Do you have a
question
about this product?
No one 18 years of age
You already know the fresh and fruity e-liquids of the range V'ICE by the genius manufacturers of VDLV? Then discover 4 new recipes for the great pleasure of fans of the genre and to face the summer days!
Let's go for a perilous mission with the e-liquid Soda Ryan and its recipe of cola and raspberry, all completed by a fresh touch. How far would you go to save the Soda Ryan?
PG / VG ratio: 50/50. This eliquid will fit most existing equipment
E-liquid 10ml ready to vape.
Also available in shortfill format 50ml : E-Liquid Soda Ryan - V'ICE by VDLV | 50ml.
Made in France
E-liquid Soda Ryan of the brand V'ICE by VDLV | 10ml : We must save the Soda Ryan !
The e-liquids V'ICE are fruity and fresh recipes in format ready to vape and shortfill format 50ml. The brand designed by the manufacturers of Vincent dans les Vapes (VDLV) relies on the humour and originality of its recipes, all as tasty as each other. Would you be tempted?
The e-liquid Soda Ryan is a fruity and fresh recipe of cola and raspberry.
How to use an eliquid 10 ml Soda Ryan V'ICE by VDLV ?
This eliquid 10 ml is ready to vape. Just open the vial and pour into the tank of your clearomizer or atomizer.
Characteristics of the eliquid Soda Ryan V'ICE by VDLV taste cola raspberry
Bottle of 10 ml in P.E.T with child safety.
Ratio: 50PG/50VG. Suitable for all types of vape equipment.
Dosed at 0 mg/ml, 3 mg/ml, 6 mg/ml, 9 mg/ml, 12 mg/ml and 16 mg/ml.
Made in France.
_____________________________________________________________________________________________
Labelling of e-liquid refills in accordance with the provisions of Article 48 of Regulation 1272/2008.
3 mg harmful by the skin H312 category 4.
6 mg to 20 mg h311 category 3.
Dangerous h311 category 3: observe the precautions for use.
Harmful, do not ingest.
Capacity (ml)

10ml

PG/VG ratio or vegetol

50 PG - 50 GV

Types of flavor

Drinks, Fresh

Aromatic notes

Coca Cola, Raspberry

Nicotine content in mg/ml

0mg, 3mg, 6mg, 9mg, 12mg, 16mg

Type of inhalation

Multifunctional

Country of manufacture

made in France
For any questions regarding your order or product availability please use our contact form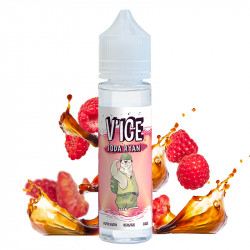 50ml
50 PG - 50 GV
Drinks
Fresh
Free delivery from 29,90CHF purchase
If you don't smoke, don't vape