Strawberry Ruby Eliquid - Pulp | 10ml
We look forward to hearing from you
10ml
70 PG - 30 GV
Fruity
Do you have a
question
about this product?
No one 18 years of age
The experts of e-eliquid Pulp adds a string to their bow with the arrival of the strawberry ruby. The strawberry ruby is a variety of strawberry made in France as its e-liquid version prepared with care in the laboratories of Pulp.


The ruby strawberry has a sweet, melting and fragrant flesh accompanied by a delicate touch of acidity. Pulp has put a point of honour to the realism during the creation of this liquid, the strawberry ruby leaves the gardens and market stalls to be directly in your clearomizer.

You can enjoy this e-liquid perfect for summer but also throughout the year because of the strawberry ruby Pulp, it has no season!
Its ratio PG / VG is 70/30.
You can find it dosed in 0 mg/ml, 3 mg/ml, 6 mg/ml, 12 mg/ml and 18 mg/ml of nicotine.
The strawberry ruby Pulp is manufactured in France.
Pulp brings its strawberry ... ruby!
Great French manufacturer of premium e-liquids, Pulp now offers us the delicate sweet flavours and the fine tartness of the ruby strawberry. Pulp e-liquids have certified food grade flavours, so Pulp's ruby strawberry is as good as the real thing! Pulp bottles are equipped with a child safety, and you can enjoy it at the nicotine rate of your choice.
Composition of the e-liquid Strawberry Ruby
The strawberry ruby Pulp consists of :
- 70% propylene glycol
- 30% vegetable glycerin
- Food flavours
- Nicotine (or not ...)
And then that's it!
_____________________________________________________________________________________________
Labelling of e-liquid refills in accordance with the provisions of Article 48 of Regulation 1272/2008.
3 mg harmful by the skin H312 category 4.
6 mg to 20 mg ... : toxic by the cutaneous route H311 category 3.
Hazardous do not ingest: follow the precautions for use.
Harmful do not ingest.
For any questions regarding your order or product availability please use our contact form
10ml
70 PG - 30 GV
Fruity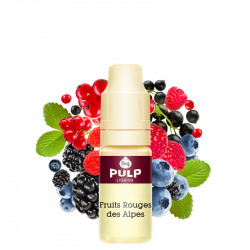 10ml
70 PG - 30 GV
Fruity
Free delivery from 29,90CHF purchase
If you don't smoke, don't vape