E-Liquid Dragon Fruit Raspberry - Protect | 10ml
10 ml
PG Végétol 40 - VG 60
Fruity
Dragon fruit
Raspberry
Do you have a
question
about this product?
Forbidden under 18 years old
Enter the wonderful world of Protect,, a brand of e-liquids committed to the preservation of bees and whose mission is to raise awareness and act in favor of these adorable pollinators who play a vital role in our ecosystem.
The latest addition to the hive, Pitaya Raspberry e-liquid reveals a combination where each puff is a delicate balance between the sweetness of dragon fruit and the boldness of raspberry. Succumb to the charm of this fruity symphony!
E-liquid ready to vape.
Ratio PG Plant / BG: 40/60. Fits all vapes.
Dosed at 3 mg/ml, 6 mg/ml, 12 mg/ml and 18 mg/ml.
Made in France.
E-Liquid 10 ml Pitaya Raspberry of Protect
Protect understands that preserving bees should not only be a serious task, but also a fun and inspiring adventure. With their creative, fruity flavors and eco-friendly ingredients, their e-liquids are designed to amaze vapers while supporting a noble cause.
Pitaya Raspberry 10ml e-liquid drenches us with a sweet and tart dragon fruit and raspberry recipe. Let yourself be carried away by a balanced and original taste experience!
How to use the eliquid 10 ml Pitaya Raspberry?
This eliquid 10 ml is ready to vape. Just open the vial and pour it into the tank of your clearomizer or your pod.
Characteristics of the e-liquid Pitaya Raspberry of Protect :
10 ml bottle in P.E.T with child safety.
Ratio PG Vegetable / BG: 40/60. Adapted to all the material.
Dosed at 3 mg/ml, 6 mg/ml, 12 mg/ml and 18 mg/ml.
Made in France.
_____________________________________________________________________________________________
Labeling of e-liquid refills in accordance with the provisions of Article 48 of Regulation 1272/2008.
3 mg harmful by skin H312 category 4.
6 mg to 20 mg toxic by the skin H311 category 3.
Dangerous observe the precautions for use.
Harmful do not ingest.
Capacity (ml)

10 ml

PG/VG ratio or vegetol

PG Végétol 40 - VG 60

Types of flavor

Fruity

Aromatic notes

Dragon fruit, Raspberry

Nicotine content in mg/ml

3 mg, 6 mg, 12 mg, 18 mg

Type of inhalation

Multifunctional

Country of manufacture

made in France
For any questions regarding your order or product availability please use our contact form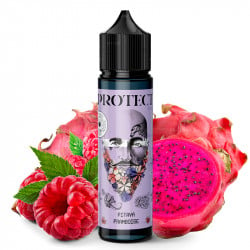 50 ml
40 PG - 60 GV
Fruity
Free delivery from 29,90CHF purchase
If you don't smoke, don't vape