E-Liquid Le Téméraire - Nicotine salts - MiNiMaL by The Fuu | 10ml
We look forward to hearing from you
10ml
50 PG - 50 GV
Tobacco
Rum
Classic blond
Spices
Do you have a
question
about this product?
No one 18 years of age
The MiNiMal range of The Fuu with nicotine salts is no longer need to be presented, as it is acclaimed by the world of vape!

The e-liquid Le Téméraire is a recipe of amber rum and tobacco coupled with spicy notes. A blend reserved for the most daring among you!
PG / VG 50/50.

10ml bottle with child safety.

Made in France.
Warning: Please use equipment suitable for liquids with nicotine salts
E-liquid Le Téméraire de Minimal 10 ml : All-day all round !
Minimal offers a variety of recipes fruity, fresh, classic and gourmet for the pleasure of all vapers lovers of nicotine salts. E-liquids format 10 ml ideal for weaning in the best way of tobacco.
Characteristics of e-liquid The Witness
- Composition: propylene glycol, vegetable glycerin, natural food flavours and nicotine USP.
- 10ml bottle with P.E.T, tamper-evident ring and child safety.
- Ratio PG / VG: 50/50 to fit the most material possible.
- Available in several rates of nicotine salts.
- Made in France
Learn more about the nicotine salts contained in the e-liquid Le Téméraire - Minimal
Compared to a traditional e-liquid, nicotine salts are absorbed more quickly by the body by the size of the molecule is slightly smaller. At the level of the sensation in the throat (hit) it will be less important, or even non-existent even with similar rates. Thus, your need for nicotine will be met more quickly. The nicotine salts must be used with a suitable material, namely a resistance around 1 oHm or higher, and a maximum power of 20W.
------------------------------------------------------------------------------------------------------------------------
Labelling of e-liquid refills in accordance with the provisions of Article 48 of Regulation 1272/2008.
3 mg: harmful by skin H312 category 4.
6 mg to 20 mg: toxic by skin H311 category 3.
Dangerous : respect the precautions of use.
Harmful: do not ingest.
Capacity (ml)

10ml

PG/VG ratio or vegetol

50 PG - 50 GV

Types of flavor

Tobacco

Aromatic notes

Rum, Classic blond, Spices

Nicotine content in mg/ml

Nic Salt 0mg, Nic Salt 10mg, Nic Salt 20mg, Nic Salt 5mg

Type of inhalation

MTL

Country of manufacture

made in France
For any questions regarding your order or product availability please use our contact form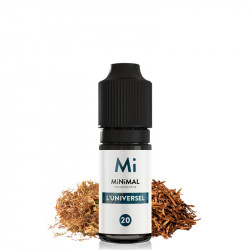 10ml
50 PG - 50 GV
Tobacco
10ml
50 PG - 50 GV
Tobacco
Free delivery from 29,90CHF purchase
If you don't smoke, don't vape