E-Liquid La Gariguette - Flavor Hit | 10ml
We look forward to hearing from you
10ml
50 PG - 50 GV
Fruity
Strawberry
Do you have a
question
about this product?
No one 18 years of age
In the strawberry family, I ask for the Gariguette! The famous one, the one that announces the arrival of good weather, and well thanks to Flavor Hit you can enjoy it all year long.
Although it does not come from a garden, this Gariguette does not lose its taste qualities. It is in a laboratory near Strasbourg in France that this e-liquid was concocted with love and passion to convey a sensation of strawberry Gariguette, juicy, sweet with its touch of acidity giving it a slight freshness very enjoyable.
An e-liquid ready to vape.
PG / VG ratio: 50/50. Suitable for all types of equipment.
Dosed at 0 mg/ml, 3 mg/ml, 6 mg/ml and 12 mg/ml.
Made in France.
E-Liquid 10 ml Flavor Hit Gariguette, the favorite strawberry.
The French brand of e-liquids, Flavor Hit the French brand of e-liquids, shares with us its harvest and the latter has been fruitful. It is with an aroma of strawberry gariguette ripe to the point that the French manufacturer treats us, attention, we speak of the top of the basket here, not the bottom of the boxes.
This juice to vape which smells good spring, it is 10 ml to vape without end, lengthened in the grass in the shade of a tree.
How to use the e-liquid 10 ml La Gariguette?
This e-liquid 10 ml is ready to vape. Just open the vial and pour into the tank of your clearomizer or atomizer and then let yourself be transported by its spring flavours.
Characteristics of the e-liquid La Gariguette of Flavor Hit
Bottle of 10 ml in P.E.T with child safety.
PG / VG ratio: 50/50. Fits all types of equipment.
Dosed at 0 mg/ml, 3 mg/ml, 6 mg/ml and 12 mg/ml.
Made in France.
_____________________________________________________________________________________________
Labeling of e-liquid refills in accordance with the provisions of Article 48 of Regulation 1272/2008.
3 mg h312 category 4: harmful by skin.
6 mg to 20 mg h311 category 3.
Dangerous h311 category 3: observe the precautions for use.
Harmful, do not ingest.
Capacity (ml)

10ml

PG/VG ratio or vegetol

50 PG - 50 GV

Types of flavor

Fruity

Aromatic notes

Strawberry

Nicotine content in mg/ml

0mg, 12mg, 3mg, 6mg

Country of manufacture

made in France
For any questions regarding your order or product availability please use our contact form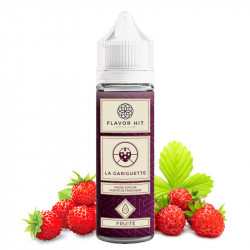 50ml
50 PG - 50 GV
Fruity
Free delivery from 29,90CHF purchase
If you don't smoke, don't vape