E-Liquid Doom - Eggz by Furiosa | 10ml
We look forward to hearing from you
10ml
50 PG - 50 GV
Drinks
Fruity
Sour
Lemon
Strawberry
Redcurrant
Do you have a
question
about this product?
No one 18 years of age
A discount is available for :
Discover the Doom flavor of Furiosa Eggz in 10ml version! An explosive eliquid combining currant, strawberry and lemon fizz! A fruity slaughter, which leaves no dragon indifferent.
The E-Liquid Doom also exists in nicotine salts with the range ioNic and in shortfill format (50ml) in the range Eggz
Bottle 10ml.
Ratio of PG / VG: 50/50
Manufactured by Vape 47.
Doom - FURIOSA (EGGZ) | 10ml
A mysterious parchment has come to us from a distant island:
"Mysterious eggs have been discovered on a previously unexplored island. These eggs would be the fruit of the mythical dragon Furiosa? When they hatch, a precious liquid with supernatural fragrances would flow out of them... Check out the legend. Discover Furiosa Eggz."
Are you up to the challenge? To plunge into a quest for a life whose outcome is more than uncertain? Reveal your inner adventurer and set out to conquer the Furiosa EGGZ.
Characteristics of Doom - FURIOSA (EGGZ) | 10ml
- Free of diacetyl, acetyl pripionyl, methanol, ambrox and paraben (in accordance with the standard XP D 90-300-2)
- PG and VG pharmaceutical quality
- Tracking production and traceability of the product by lot number
Labelling of e-liquid refills in accordance with the provisions of Article 48 of Regulation 1272/2008
3 mg H312 category 4: harmful by the skin
6mg to 20 mg H311 category 3
Dangerous H311 category 3: observe the precautions for use
Harmful Do not ingest.
Capacity (ml)

10ml

PG/VG ratio or vegetol

50 PG - 50 GV

Types of flavor

Drinks, Fruity

Aromatic notes

Sour, Lemon, Strawberry, Redcurrant

Nicotine content in mg/ml

0mg, 12mg, 3mg, 6mg

Type of inhalation

Multifunctional

Country of manufacture

made in France
For any questions regarding your order or product availability please use our contact form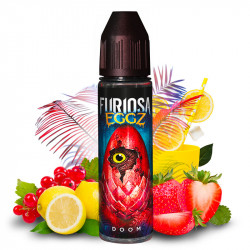 50ml
30 PG - 70 GV
Drinks
Fruity
Free delivery from 29,90CHF purchase
If you don't smoke, don't vape