Puff Grape, blackcurrant - Bordeaux - Curieux
Fruity
Fresh
Grape
Blackcurrant
550mAh
MTL
made in France
Do you have a
question
about this product?
No one 18 years of age
The Curieux Puff is the first French puff filled in France with 2ml of e-liquids Curieux. Four best-selling flavours are available including the famous Bamboche in Bordeaux resumed under the name of Puff Bordeaux!
Direction the world capital of wine, in the heart of the Gironde, with the puff Bordeaux to the good taste of grape and blackcurrant completed by a touch of freshness. A getaway between restaurants, vineyards and historical monuments guaranteed!
The puffs Curieux offers up to 700 puffs thanks to their internal battery of 550 mah. Their coils in Nichrome confer them a perfect restitution of flavour. You will enjoy an MTL draw with a hit more or less powerful depending on the dose of nicotine chosen(0 mg / ml, 10 mg/ml or 20 mg/ml): Here, the variation 10 mg / ml is proposed in classic nicotine and 20 mg / ml in nicotine salts
Once your 700 puffs finished, you can take it to your local sorting and recycling centre to then test the other flavours that offer Curieux Puffs
Sold by the unit.
Disposable Puff Bordeaux - Curieux a festive and tonic vintage !
Find your e-liquid Curieux favourite in Puff format: Bordeaux combines the sweet fruit of sunny vines to the tangy pleasure of blackcurrant berries. Enjoy an MTL draw and different levels of nicotine (0 mg/ml, 10 mg/ml in classic nicotine and 20 mg/ml in salts).
Puff Bordeaux, the first French Puff!
With the Bordeaux puff of Curieux no need to adjust, button, recharge the battery or even change the resistance. It is therefore perfect for beginners vapers making their first steps in the world of vape. It is the first puff filled in France by French e-liquid and 100% vegetable.
Its sealed tank of 2 ml is already filled with Bordeaux e-liquid, ready to vaper. The puffs are equipped with an internal battery of 550 mAh to allow you to take up to700 puffs and a resistive wire in nichrome for a better rendering of flavours. Finally, with its compact size and lightness, you can take it everywhere!
It is strongly advised then bring your used vape pens to a sorting centre or recycling.
If you do not smoke, do not vape.
Discover the first French Puff filled in France. Everything has been thought out and optimised in the interest of supporting the smoker in his or her efforts to stop smoking. The Curieux Puff is a disposable e-cigarette with a 2 ml tank and a nichrome resistance for a perfect flavour. 
The first Puff filled in France with French-made liquids. You will find the best sellers and essential e-liquids of the manufacturer Curieux. Available in 0mg/ml, 10mg/ml in classic nicotine and 20mg/ml in nicotine salts. 
Capacity (ml)

2 ml

PG/VG ratio or vegetol

PG Vegetal 70 - VG 30

Types of flavor

Fruity, Fresh

Aromatic notes

Grape, Blackcurrant

Nicotine content in mg/ml

0 mg, 10 mg, Nic Salt 20 mg

Hardware format

Vape pen disposable

Battery life

550mAh

Battery type

Internal battery

Type of inhalation

MTL

Airflow

Non-adjustable

Drip Tip compatibility

Drip Tip Not replaceable

Fill type

Sealed: no refilling

Packaging

Sold individually

Country of manufacture

made in France

Labels

2+1 Free

Number of puffs

700 Puffs
For any questions regarding your order or product availability please use our contact form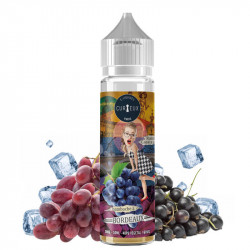 50 ml
Vegetol 40 - VG 60
Fresh
Fruity
Free delivery from 29,90CHF purchase
If you don't smoke, don't vape