Pod V Thru Pro - Voopoo
We look forward to hearing from you
900mAh
Internal battery
MTL
Do you have a
question
about this product?
No one 18 years of age
Discover an easy to use, compact, lightweight kit with good flavor reproduction! This is the V Thru Pro pod from Voopoo. This one is perfect for beginners, because its tight draw MTL resembles the classic cigarette. In addition, it is compatible with nicotine salts and high nicotine levels. But also for experienced vapers who want a discreet and intuitive vape
Its responsive GENE chipset allows the adjustment of power from 5 to 25W and manual or automatic locking. The settings are made via theOLED screen of 0.69. The 900mAh internal battery charges quickly via the USB-C cable
The V Thru Pro ecig from Voopoo comes with a 0.7 ohm (mesh) and a 1.2 ohm (helix) V Thru leak-proof cartridge with 3 ml capacity. The resistance is directly integrated
The V Thru Pro pod from Voopoo, a simple and compact ecigarette with excellent flavor reproduction
The pod V Thru Pro Voopoo joins the family of intuitive and simple to use vapes. But also, it is easy to carry by its compact size (95.5 x 28.5 x 14.9 mm). Made of aluminium, it also shines by its lightness (44 g). Ideal for beginners, because its tight draw MTL resembles the feeling of a classic cigarette. You can therefore use your nicotine salts as well as high nicotine levels. Experienced vapers are not left out! This kit becomes a support ecig, easy to use with a good rendering of the flavors of e-liquids.
Compact, also means powerful: The kit V Thru Pro Voopoo
The V Thru Pro hides an internal battery of 900 mAh. In addition, this one recharges quickly thanks to the USB-C cable delivered. That's not all, you'll also find a responsive GENE chipset that allows you to adjust the power from 5 to 25W. However, the pod is able to adapt the power to the installed cartridge.
The settings are made via the0.69 OLED screen, located on the side. Through this same screen, also view the power, the value of the resistance, the remaining battery life and the puff counter. To display the power and puff counter, press the pod button once.
The chipset is equipped with the necessary protections in case of short circuit, overload, discharge and reverse airflow.
The electronic cigarette V Thru Pro Voopoo: A simple to use
The Voopoo pod is delivered with 2 v Thru Voopoo cartridges of 3 ml with integrated resistance:
- Cartridge 0.7 ohm (mesh): hotter puffs with more steam - lower nicotine levels
- Cartridge 1.2 ohm (helix): hit in the throat more powerful - high nicotine levels and nicotine salts
The V Thru Voopoo cartridge made of PCTG is leak-proof andprevents condensation drops. The filling is done on the side with e-liquid ratio 50PG/50VG or 70PG/30PG. To do this, remove the cartridge from the battery, then the silicone cap. Finally, replace everything after filling. When the resistance is damaged, change the whole cartridge. The handling is therefore simpler, because you do not have to change the resistance, just change the tank in a flash. The tank has a double fixing with a magnet and clips for more security.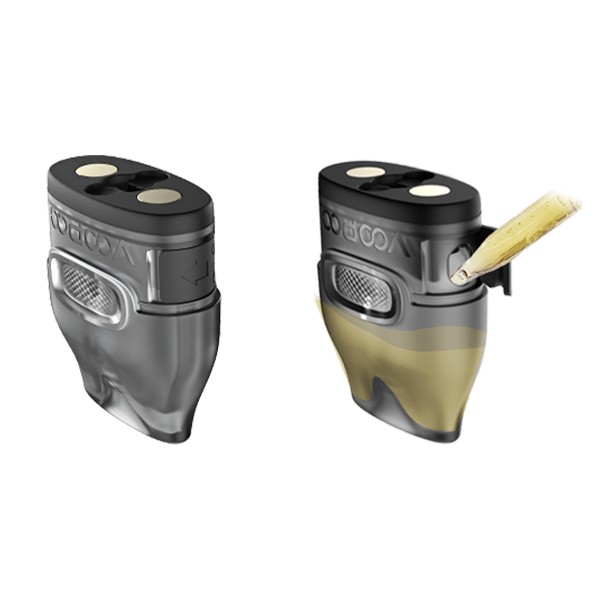 To vaper, nothing could be easier! Just suck it up! However, the V Thru Pro is equipped with a security by double manual and automatic locking to block its activation:
- Manual lock: press the pod button 5 times to access the menu, then hold the button on the Lock function
- Automatic lock: if the ecigarette remains on for more than 5 minutes without use, it locks automatically. To reactivate it, press the button 3 times.
Finally, you should know that the airflow is not adjustable. Indeed, everything has already been thought for you, in order to offer you a vape experience with tight draw MTL rich in flavors. Only the 2 different values of resistance (0.7 ohm and 1.2 ohm) allow versatility.
The V Thru Pro Voopoo pod comes with:
- 1 V Thru Pro pod
- 1 V Thru cartridge of 0.7 ohm (mesh)
- 1 x 1.2 ohm V Thru cartridge (helix)
- 1 USB-C cable
- 1 user manual
The characteristics of the Voopoo V Thru Pro pod :
- Dimensions: 95.5 x 28.5 x 14.9 mm
- Weight : 44 g
Voopoo is a company that firmly believes in technology as a means of bringing comfort to human beings. They develop their products by putting innovation at the service of an effective smoking cessation while developing products designed to bring you pleasure: podmods, ecigarette kits, clearomizers, resistances.
Capacity (ml)

3ml

Hardware format

Mini format - discreet, Pod system

Battery life

900mAh

Battery type

Internal battery

Maximum power

25W

Type of inhalation

MTL

Tank material

PCTG

Airflow

Non-adjustable

Drip Tip compatibility

Drip Tip Not replaceable

Connections

Owner

Fill type

Side Filling

RBA option

No

Compatible coils

Built-in coil

Variable power / voltage

Yes

Charging possible via USB

Yes

Country of manufacture

made in China
For any questions regarding your order or product availability please use our contact form
Flavie
2021-11-17 08:22:34
Au bout d'un mois d'utilisation, cette cigarette électronique ne fonctionne plus. Avez vous des conseils ?
Bonjour Flavie,
Je suis désolé d'apprendre que vous rencontrez des difficultés à l'utilisation de votre matériel.
Pour toute demande SAV, merci de vous rapprocher auprès de notre service client en écrivant un mail à :
[email protected]
L'équipe Freevap vous souhaite une agréable journée !
GUILLAUME
2021-11-08 15:56:16
Bonjour
Comment reconnaître une cartouche 0.7 et 1.2 ohms ?
Rien ne semble différencier les 2 Pod livrés avec ma nouvelle Mod
Merci !!!
Bonjour Guillaume,

Afin de différencier les deux pods livrés dans le kit pod V Thru Pro de Voopoo, il vous suffit de regarder la valeur inscrite sur l'opercule d'ouverture pour le remplissage du liquide.
Il y sera inscrit soit 1,2 ohm soit 0,7ohm.

L'équipe Freevap vous souhaite une agréable journée !
Free delivery from 29,90CHF purchase
If you don't smoke, don't vape