The Freevap crew wishes all mothers a happy Mother's Day!
For this special occasion,
give better than flowers!
Take advantage of a
20% discount

on our selection of vape-themed gifts!
Perfect kits for our smoking mums that we want to preserve, because we love them!
Promotion applied automatically on products until Monday 9 May 2022 (while stocks last)
The Kiwi Pod Kit - Kiwi Vapor: The team's choice to start vaping with confidence!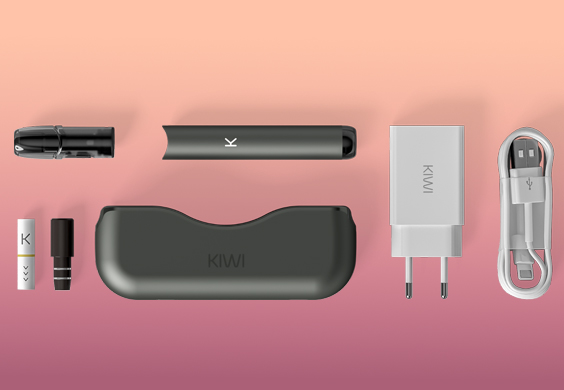 The Kiwi Pod is an ideal beginner kit for a successful transition to vape!
The benefits:
Easy to use: no adjustment, coil integrated into the cartridge for a simplified change. Compatible with most e-liquids on the market. You only have to inhale to vaporize.
A vape experience similar to the classic cigarette (thanks to an MTL draw) and its cotton filter (also delivered with a classic drip tip)
A neat design accompanied by a light weight of 25 grams (87 grams with the powerbank).
An extraordinary autonomy thanks to its powerbank that can recharge the Kiwi Pod 4 times. No more risk of relapse to the traditional cigarette because you have no battery, this pod is the ultimate weapon for a successful smoking cessation!
The cool thing: it vibrates!
 A multitude of accessories available to customize it (mouthpiece with patterns) and protective leather case.
Who is the Kiwi Pod for?
It is as much for the mother who smokes little as for the mother who smokes a lot! Its big advantage: its compact size (pen) while having a powerbank (removable battery) that allows you to recharge your Pen Kiwi in mobile mode. You can also smoke when it is charging on it: no need to wait! It uses "cigarette filter" type tips allowing zero frustration when you have it in your mouth: you really have the sensation of smoking! But without the risks.
Freevap's advice for a good start with the Kiwi:
With a tobacco flavoured e-liquid, Kiwi delivers its full potential. It is of course possible to vapour all types of flavours with it, but from experience, the success rate of quitting smoking with Kiwi and a good tobacco e-liquid is record low! It is necessary to prefer a fairly high nicotine rate because it provides a moderate steam like a cigarette (between 12 and 18 mg / ml and nicotine salts 20 mg).
The kit Pod Avocado Baby - Vaptio
All compact, all cute: here is the Avocado Baby!
The benefits:
Very easy to use with its all-in-one cartridges (only this part can be changed and clipped in a childish way) in which you put the e-liquid. You can adjust the power and adjust the airflow.
A vape experience similar to the classic cigarette (MTL) and the possibility to switch to a more open restrictive DL draw for a slightly larger volume of steam.
A stylish look with its pretty pastel colours and its pocket format.
An excellent autonomy for this pocket format with its integrated battery of 1100 mAh (enough to last the day for a moderate smoker switching to vape) while having a very fast charge with its USB-C port!
Who is the Avocado Baby Pod for?
Is your mother a fashionista? The Avocado Baby is made for her! Its colours and its touch would almost make you want to eat avocado (be careful, it's not a real avocado!). Sexy, this discreet vape with compact measurements will suit mothers who smoke moderately (less than 1 pack per day) for a single e-cigarette, but can also suit heavy smokers by playing with 2 simultaneous kits (in these cases, take 2 different colours to go in the fashion aspect until the end!) In addition to its design of the most successful, it is bluffing at the level of the sensations of vape and its rendering of flavours.
Freevap's advice for a good start with the Avocado Baby:
Avocado Baby brings a roundness and sweetness to the flavours of e-liquids. It goes very well with fruity or fresh / mentholated tastes. A tobacco or a gourmet e-liquid do not scare him either. The kit comes with a 0.7 ohm cartridge, offering a more generous vape than the 1.2 ohm which is purchased separately. For the 0.7 ohm, it is better to use it in open mode (DLR) for better sensations, with an e-liquid in 6 mg. The 1.2 ohm allows it to have a much tighter draw with a less abundant steam, ideal for high levels of nicotine from 12 mg and more (and nicotine salts).
The kit Pod Feelin mini - Nevoks
The Kit Pod Feelin mini, small in size, but big in feeling!
The benefits:
Easy to use, no adjustment and automatic draft: no buttons! You just have to inhale.
Coils are not integrated in the cartridge. More ecological and economical, the cartridge is kept for life!
A vape experience similar to the classic cigarette (MTL) and the possibility of switching to restrictive DL draw by changing the cartridge direction.
A mini size and weight for a pocket format by excellence with a maximum of flavour!
Who is the Pod Feelin Mini for?
Beware, it is so small that you could almost lose it in your handbag, and you could quickly confuse it with your lipstick tube! Ideal for trying out vaping discreetly, or as a secondary kit: it will certainly become your mother's best ally. Whenever she has a cigarette craving, all she has to do is pull out her Feelin Mini to be satisfied. Depending on your mum's smoking profile, it can be an excellent ally in her daily life despite its short autonomy with its ultra-fast usb-c charge.
Freevap's advice for getting started with the Feelin Mini:
With its MTL draw that delivers the SPL10 resistor of 0.8 ohm, we recommend a nicotine level of 6 mg minimum, and 12 mg for most cases. Despite the fact that the cartridge is kept and that only the resistance is changed inside, we still advise having at least one additional cartridge to be able to juggle easily between 2 or more flavours e-liquids not to get tired of one.